Notice
: Undefined offset: 3 in
/home/wanderin/public_html/wp-content/plugins/wp-youtube-player/wp-youtube-player.php
on line
85
Notice
: Undefined variable: doing_rss in
/home/wanderin/public_html/wp-content/plugins/wp-youtube-player/wp-youtube-player.php
on line
92
Bangkok or Krung Thep which means the City of Angels was constructed in 1782 or 230 years ago. Presently, Bangkok has approximately 10 million population and it is considered one of the biggest cities in the world.
Cultural phenomenon, shopping heaven and tourist treasure. Welcome to Bangkok; one of the most cosmopolitan, contrasting and, above all, compelling of Asian cities. A steamy, pulsating, yet smiling metropolis of more than ten million – intense at first, but addictive as anything. Come find your niche among dazzling temples, hotels of every breed and size, eclectic markets, gleaming palaces, ritzy shopping malls, a famous nightlife and the many things in between
The Chao Phraya River Trip.
The trip along Chao Phraya River is a very exciting and enjoyable thing to do for visitors either in the day time or in the evening with dinner served on the river cruise. The most famous area to start is from Royal Orchid Sheraton – Oriental – Shangri-La hotels. Of course the river cruise can be made from hotels on the opposite side such as the Penninsular, the Marriot and some others.
Bangkok is as intoxicating as it is diverse; a melting pot of exotic aromas, interesting sights and visual delights. It's a city with infinite layers which you need to explore to reveal its hidden secrets. If you're planning a trip to Bangkok – or Krung Thep as it's called in Thai – make sure to allow enough time to see some of the treasures that has given this city iconic status. At least three to five days.
Follow this link to Travelfish story on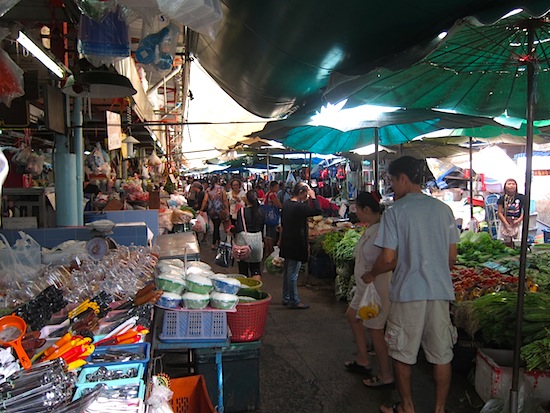 Jewel and Janice at the Royal Palace